Madeline Hogan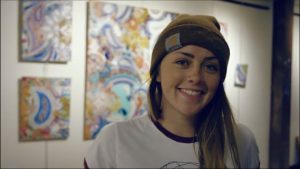 Instagram: Madeline_Hogan
I love shooting Moto and capturing women in my work. Both processes allow me to express their beauty from my own eye. I heard people who made it saying its best to go deep at your specific niche so your audience can grow yet its nearly impossible to get rid of either one of them.
In a crowd, I tend to gravitate towards the people not saying much, the quiet ones. They often are the ones slayin' it when you ask about them, they respond with excitement rather than boastfulness. I like that. That kind of passion is contagious yet powerful… "Tits in the Pits" is an illustration of woman with vision and grace, aspire to be empowered. Who bring a whole new definition into the pits. Every time you get on a bike, you are saying to the rest of the world that you live passionately and ambitiously and not only do you not mind being a leader. But you revel in it. Women riders are changing the way the world thinks. One mile at a time.
I hate the narrative that a women have to look a certain way to be taken seriously as a moto enthusiast. Ever hear people comment on what a guy is wearing to a moto event? Nope me neither. Look how you want. Dress how you want. Like what you want. To this day no matter what I do, how much I write or how hard I ride, its never enough. I will forever be seen as a pretty face first and everything second so I hide ashamedly behind a helmet most of the time.
" She didn't do it for him or for them, she did it so she could keep breathing"…