Mariah Davis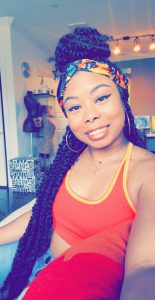 Website: www.MoriaArtStudio.com   |   Instagram: mo.rai.official
I create abstract expressionism and realism paintings to uplift those through my art.
I struggled with mental health since I was 11 years old, and in the African American community this topic was almost shameful to even bring up. Self esteem is so detrimental in my community with some of the stereotypes and stigmas associated with people of color.
I found that through my art, not only has it helped me cope while creating it, but creating empowering and uplifting images to put back into my community is something that I love and will always be passionate about.